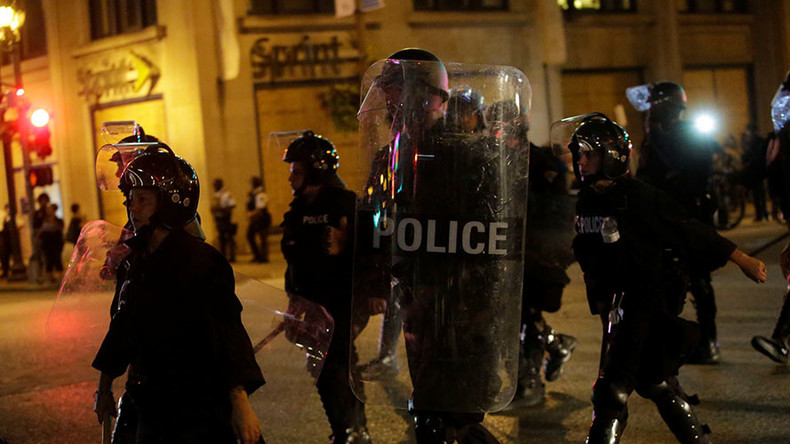 Police reportedly chanted 'whose streets, our streets' on a night when law enforcement used pepper ball projectiles to clear protesters from downtown St Louis, Missouri.
Protests over the acquittal of former police officer Jason Stockley, accused of first degree murder in the shooting of Anthony Smith in 2011, entered a third night on Sunday.
On Friday, Stockley, 36, was found not guilty of unlawfully killing Smith and planting a weapon in his vehicle. Stockley shot and killed the suspected drug dealer in 2011 after a high-speed car chase involving police. He denied stating that he wanted to kill Smith during the incident.
St Louis Metropolitan Police say peaceful daytime demonstrations on Sunday descended into violent destruction, during which windows were smashed and property destroyed by "agitators" in the city.
More than 80 people were detained, according to local authorities.
During the unrest David Carson, a St Louis Dispatch photographer, reported hearing police on Tucker Boulevard shouting "whose streets, our streets", while arrests were being made.
A video purportedly of the incident has also emerged online.
RT.com has contacted the St Louis Police Department for comment.
St Louis Police Commissioner Lawrence O'Toole told a late night press conference the city was safe and that "police own the night."
"I'm proud to tell you that the city of St Louis is safe and the police own the night. Our officers are doing outstanding work. Once again, a group of criminals set out to break windows and destroy property," O'Toole said.
READ MORE: St Louis police knock older woman to ground & arrest her (PHOTO, VIDEO)
"Tonight those criminals are in jail. We confiscated at least five weapons, none of them were used. Some criminals assaulted law enforcement officers and threw chemicals and rocks at them. All the officers' injuries were minor or moderate. All will be returned to duty soon."
A number of bystanders reported seeing riot police use rubber bullets as protesters fled the area kettled by officers.
However, the St Louis Metropolitan Police denied using rubber bullets, instead stating that "pepper balls" were fired after officers were attacked.