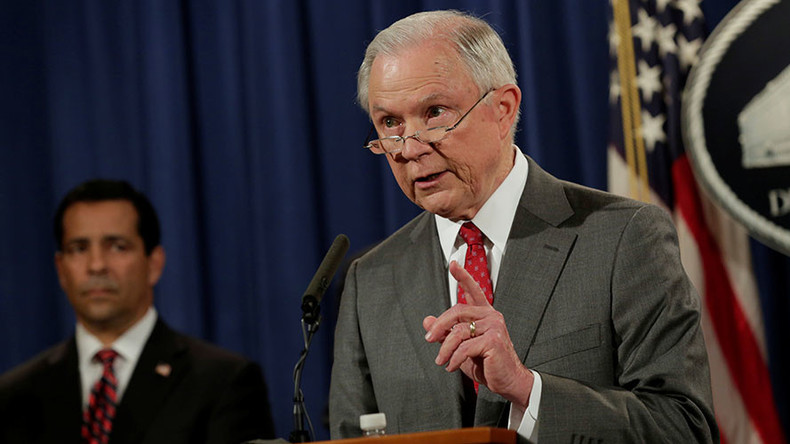 The Department of Justice is suing a Colorado-based company for allegedly discriminating against American workers, after refusing to hire US citizens in favor of hiring temporary foreign labor.
The Department of Justice announced Thursday it has filed a lawsuit against the Colorado-based Crop Production Services Inc, for refusing to employ at least three American citizens as seasonal technicians at a rice breeding facility in El Campo, Texas. The DOJ accused the company of offering preferential consideration to temporary foreign workers under the H-2A visa program.
The lawsuit marks the first federal prosecution of its kind since President Donald Trump signed his "Buy American and Hire American" executive order in April.
"In the spirit of President Trump's Executive Order on Buy American and Hire American, the Department of Justice will not tolerate employers who discriminate against US workers because of a desire to hire temporary foreign visa holders," Attorney General Jeff Sessions said in a statement. "Where there is a job available, US workers should have a chance at it before we bring in workers from abroad."
According to the complaint, CPS imposed an "onerous hiring process" on at least three US citizens, requiring them to complete background checks and drug tests that H-2A workers did not have to take. The DOJ also accused the company of hiring H-2A workers who could not speak any English, while refusing to hire US citizens with "limited English proficiency."
Ultimately, the DOJ accused the company of only hiring temporary foreign workers to fill all 15 available seasonal technician jobs in 2016.
CPS was accused of violating the Immigration and Nationality Act (INA), which prohibits employers from discriminating against any individual based on their citizenship status. In addition, the DOJ said the company was violating the H-2A visa program, which requires employers to show that hiring temporary foreign workers "will not adversely affect the wages and working conditions of similarly employed US workers."
The department wants the company to pay back wages, civil penalties, and other "remedial relief" to "overcome the effects of discrimination."