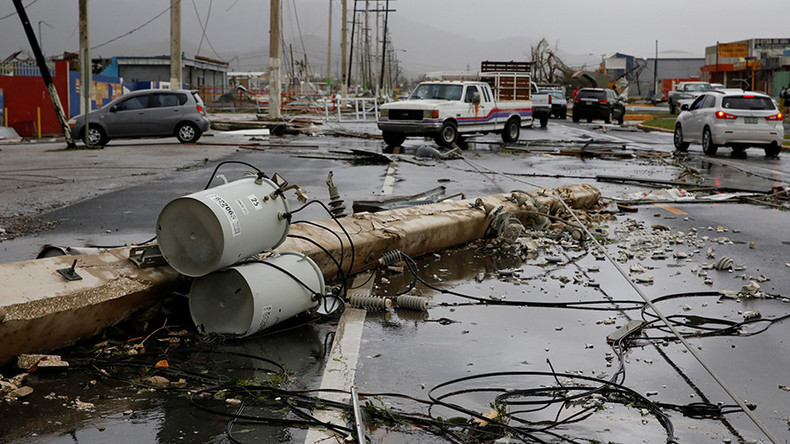 President Donald Trump said Hurricane Maria "totally destroyed" Puerto Rico and promised a visit to the US territory, although he did not state when. The storm has resulted in 15 deaths, and at least 20 people are missing across the Caribbean.
"Got hit with winds they say, they've never seen winds like this anywhere," Trump said during his meeting with Ukraine President Petro Poroshenko on Thursday in New York. "Got hit as a 5, category 5 storm, which literally never happens."
Maria hit the US Virgin Islands as a Category 5 hurricane, and then was reduced to a Category 4 when it hit Puerto Rico, knocking out the island's entire power grid, triggering landslides and floods, as well as causing extensive damage to property and infrastructure.
Puerto Rican Governor Ricardo Rossello described the hurricane as "the most devastating storm in a century" and said it could take months to restore power.
Trump noted that Puerto Rico's electrical grid "wasn't in good shape to start off with."
The extent of the damage is unknown given that dozens of municipalities remained isolated and without communications.
The governor has asked Trump to declare an emergency disaster area across the island, which was clobbered by winds as strong as 140 mph (225 km/h).
The US president has yet to do so, but has made federal emergency aid available.
Meanwhile, the White House announced Tuesday that Trump had issued a disaster declaration for the US Virgin Islands which were hit by Hurricane Marie on September 16.
The declaration provides federal funding to people affected on the island of St. Croix, which can include grants for temporary housing and home repairs, low-cost loans to cover uninsured property losses and other programs to help business and people recover from the effects of the disaster.
Trump said that he had been in contact with the Homeland Security adviser Tom Bossert, who has been spearheading the White House rescue and relief efforts during the hurricane season, and that the recovery process in Puerto Rico would begin "with great gusto."
Many homes in Puerto Rico were still dark after Hurricane Irma hit just weeks ago, resulting in the cutting of electricity to 1 million residents, as Maria made landfall.
The storm also raised concerns about potential environmental disasters. Puerto Rico is home to 23 Superfund sites, including on the island of Vieques, site of a former US naval test range, which took a near-direct hit from the storm.
The devastation from Maria comes when Puerto Rico is facing the largest municipal debt crisis in US history.
Its utility company, PREPA, is bankrupt, and was only just recovering from the destruction of Hurricane Irma, according to Reuters. In recent years, high prices of petroleum have driven residents' power prices up as high as three times those in the US mainland.
The prime minister of Dominica said that more than 15 people have died and that 20 people remain missing on that island, which received a direct hit from Hurricane Maria.
Dominican Prime Minister Roosevelt Skerrit cried as he spoke to a reporter on the nearby island of Antigua. He said it was a miracle the death toll wasn't in the hundreds, and that the island "is going to need all the help the world has to offer."
Maria was a Category 4 when it hit the island on Tuesday and destroyed homes and cut off the island's communication systems and shut down its airport.
Maria, now a Category 3 storm, is lashing the Dominican Republic further west and heading towards the Turks and Caicos Islands.