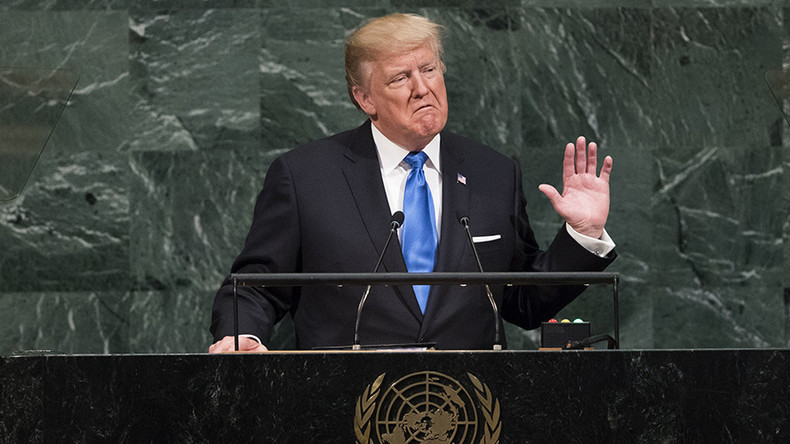 US President Donald Trump delivers his first speech at the annual General Debate of the 72nd session of the UN General Assembly.
US President Donald Trump has stressed the importance of sovereignty in international relations, saying the US is not seeking to impose its way ways on other countries, in his first address to the United Nations.
"In America, we do not seek to impose our way of life on anyone," Trump said in the speech to the UN.
Trump said he will always put America first, just like other leaders in the room "will always and should always put your countries first," he said, drawing brief applause from the audience.
"We are guided by outcomes, not ideology."
Trump used the word 'sovereignty' many times in the first part of his speech, stressing that it is the founding principle of the United States.
President Trump then went on to blast North Korea and "the Rocket Man," referring to the North Korean leader and his recent missiles tests.
"Rocket man is on a suicide mission for himself and his regime," he said.
If forced to defend itself and its allies, the US "will have no choice but to totally destroy North Korea," he added.
Trump thanked China and Russia for joining in to impose sanctions on the North.
"It is time for North Korea to realize that denuclearization is its only acceptable future."
The president also blasted Iran, saying its chief exports are "violence, bloodshed and chaos."
He said the nuclear deal with Iran, which major world powers including the US negotiated two years ago, "is an embarrassment to the US," and added "frankly, I don't think you've heard the last of it."
Earlier, the Trump administration threatened to quit the deal if the IAEA does not require and obtain access to all Iranian military sites.
The UN's nuclear watchdog, the International Atomic Energy Agency, last week certified that Iran has been complying with the agreement, which was designed to make sure Iran does not build nuclear weapons.
The 72nd Regular Session of the assembly opened on September 12 and will last till September 25.
The topic of the General Debate is 'Focusing on People: Striving for Peace and a Decent Life for All on a Sustainable Planet', according to the UNGA website.