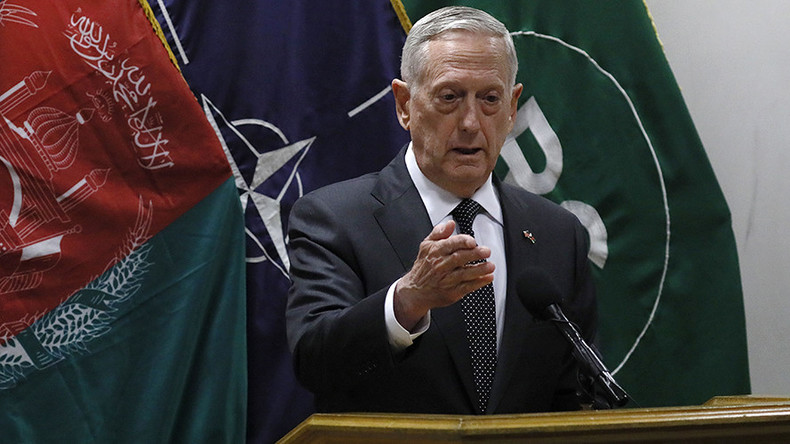 Several rockets landed in and around Kabul International Airport shortly after US Secretary of Defense James Mattis arrived in the Afghan capital, an Afghan official said. Taliban which claimed responsibility for the attack said that Mattis was the target.
US Secretary of Defense James Mattis is holding a joint news conference in Kabul.
READ MORE: No troop pullout, threats to Pakistan in Trump speech on new Afghanistan strategy (VIDEO)
"Rockets landed near the airport this morning. No casualties reported," Afghan Interior Ministry spokesman Najib Danish tweeted on Wednesday.
There have been no reports of casualties and Mattis was not near the airport when the rockets hit, Reuters reports.
READ MORE: Over 3,000 new US troops headed to Afghanistan – Pentagon
This is the first official visit of the defense secretary to the war-torn country since US President Donald Trump's decision in August to intensify US involvement in Afghanistan.
"Our troops will fight to win," Trump said, adding that "a hasty withdrawal," would create a "vacuum" for terrorists. The US troops will remain in the country for an indefinite period of time, he said, vowing "fast and powerful" retribution against terrorist organizations
Mattis said at that time that he had "directed the Chairman of the Joint Chiefs of Staff to make preparations to carry out the president's strategy."
In September, Mattis confirmed that over 3,000 new US troops will be headed to Afghanistan as part of the new strategy to win the war.
Russian Foreign Minister Sergey Lavrov described the strategy as a "dead end," as it mainly relies on the use of force. The strategy also allows negotiations with the Taliban without any preconditions, which is a significant flaw, Lavrov said.