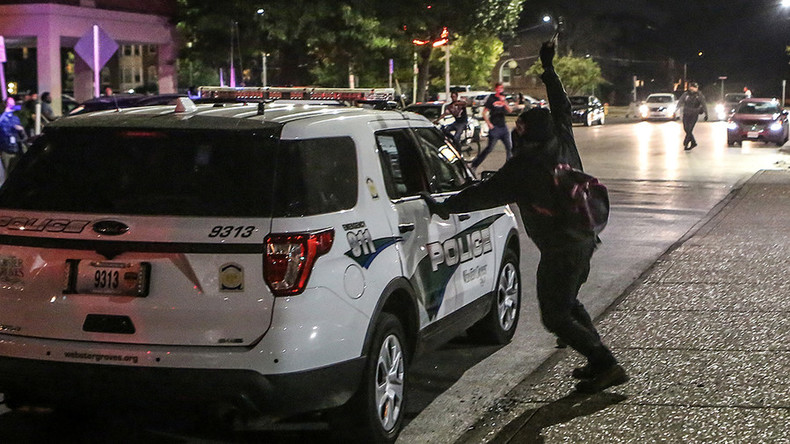 For a third consecutive day, hundreds of activists are marching through the streets St. Louis to protest the acquittal of a white former city police officer in the death of a black motorist. Two previous days of protest ended with clashes and vandalism.
Holding up "Black Lives Matter" signs and chanting, "Stop killing us" and "No justice, no peace," protesters marched into the city's Midtown area.
There they gathered outside the St. Louis Police Department. They formed lines in front of the barricaded police headquarters where they staged a "die-in" action.
Protests erupted Friday after murder charges in the 2011 shooting case of 24-year-old Anthony Lamar Smith were dismissed by the court. Judge Timothy Wilson ruled that former St. Louis Metropolitan police officer Jason Stockley acted in self-defense when officers were trying to arrest the suspect.
The decision triggered massive demonstrations in the city and suburbs. By late afternoon, marchers were heard chanting, "We shut s*** down" and "These killer cops have got to go."
Tear gas & arrests, mayor's home vandalized in St. Louis after ex-cop acquitted of black man's death
By Friday evening, protesters converged on Mayor Lyda Krewson's house before police formed a barrier and used pepper spray on those who refused to leave. The demonstrations on Friday left 11 police officers injured. At least 33 people were detained.
On Saturday, protests continued their violent streak for a second night running. Following a number of peaceful events, by the evening some rioters started breaking windows of various businesses and throwing objects at police.
Protesters smash windows in St. Louis after ex-cop acquitted of black man's killing (VIDEO, PHOTOS)
Officers in riot gear engaged the protesters, making nine arrests on charges ranging from "rioting" to "assault" in a confrontation that took place in University City, a suburb of St. Louis near Washington University.