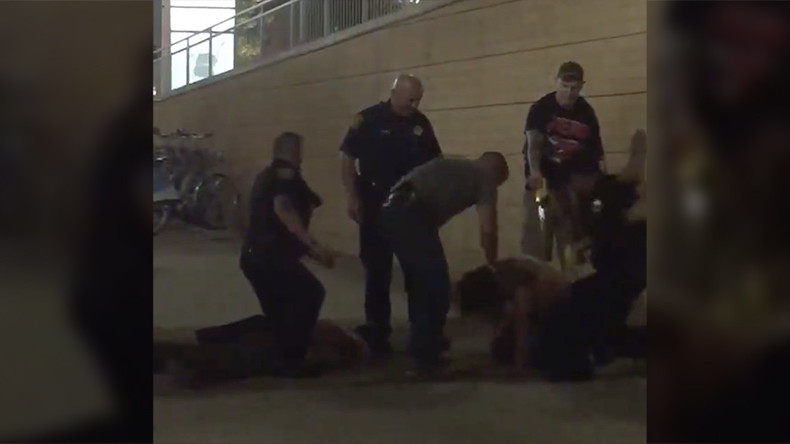 Three investigations are underway after footage showing undercover and uniformed officers savagely beating a man who allegedly attempted to help them carry out an arrest was posted online.
"It's not a professional representation of a police officer for the Pittsburgh Bureau of Police," Elizabeth Pittinger of the Citizen Police Review Board said of the incident, particularly the foul language used by the officers, according to CBS. "It should not be tolerated."
"Whether or not the use of force was reasonable, appropriate and necessary will be determined by other facts from witness accounts and other sources of information," Pittinger said.
WARNING: The following video contains graphic violence and offensive language.
At approximately 10:45pm local time, police were in the process of arresting David Jones who was wanted for forgery when Daniel Adelman, 47, says he attempted to intervene and assist the officers.
The officers, it appears, did not appreciate Adelman's actions and violently beat him while placing him under arrest. One officer punched Adelman multiple times in the head and torso before repeatedly slamming his face into the pavement. Other officers also attempted to tase him several times while he was being placed in handcuffs.
Adelman was charged with obstructing an arrest, resisting arrest and public drunkenness. He was released from Allegheny County jail Wednesday.
"I did take a beating," Adelman said, as cited by CBS. "I was smoking a cigarette, and I see an officer with a suit on, and then I see this other guy and I thought the officer in the suit was in trouble. So I went down there and, you know, and then all hell broke loose."
"I do know the officer got me on the ground and was punching me straight in the face real good," he said. "I think I remember grabbing his hand and told him, 'Listen. No more hitting,' basically."
Adelman also claims that he dislocated his shoulder in the incident.
Three investigations into the incident have been launched by The Office of Municipal Investigations, The Allegheny County District Attorney's Office and the Citizens Police Review Board.
"We have a zero tolerance for excessive force among Pittsburgh Bureau of Police Officers. Our management of use of force includes an automatic review of every incident in which force is used when making an arrest," Police Chief Scott Schubert said in a statement.
"In addition, we have initiated a review that is being conducted by our Office of Professional Standards so that we can ensure that the use of force was objectively reasonable considering the situation confronted by the officers."
The officer in question, Andrew Jacobs, has been placed on desk duty pending the outcome of the reviews.