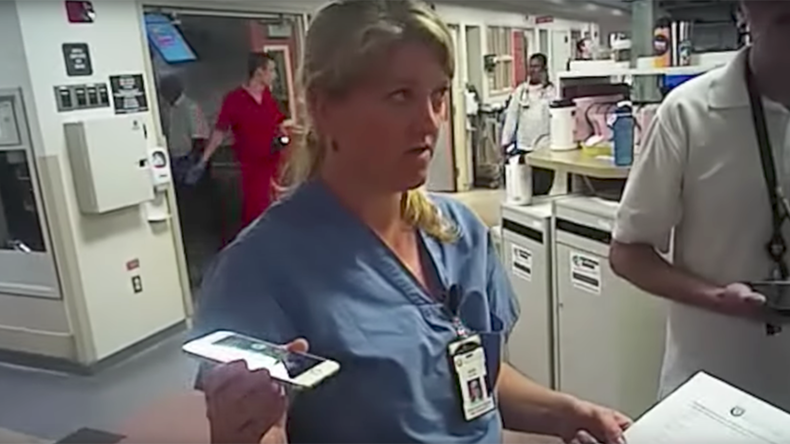 The patient at the center of a blood sample furore in which a Utah nurse was arrested has died from his injuries. Salt Lake City police had tried to take a blood sample from the patient as he lay unconscious, but nurse Alex Wubbels refused to allow it.
William Gray, a truck driver and reserve police officer with Idaho police, was seriously injured in a traffic collision and taken to hospital, where Detective Jeff Payne sought to have blood drawn from the 43 year old.
Payne was filmed forcibly detaining University of Utah Health nurse Wubbels for refusing to comply with the request, which is against hospital policy – and the footage went viral.
Gray died on Monday night, according to a local police department in Rigby, where he was listed as a reserve officer.
"He has been in a long hard fight," Rigby Police said in a statement. "Tonight, his body lost this fight. We would like to offer our condolences to his wife, April, and their loved ones.
"We say 'body' because his spirit will live on with us all. Bill was truly the best of mankind."
READ MORE: Utah cop who arrested nurse under criminal investigation, suspended as SLC aims to make amends
Two Salt Lake City police officers, including Payne, are currently being investigated over the nurse's arrest at the University of Utah Health hospital.
Footage of the incident, obtained by the Salt Lake Tribune, shows nurse Wubbels explaining why she cannot take a blood sample unless police have Gray under arrest, an electronic warrant, or patient consent.
At one point, however, Payne pulls a screaming Wubbels by the arm out of the building and handcuffs her, telling her she's under arrest.
The detective had been seeking to obtain a sample from the victim following a serious traffic accident, during which Gray's semi-truck was smashed into by a vehicle fleeing police.
The driver of the other vehicle, Marco Torres, died in the immediate aftermath of the crash. Gray was not suspected of any wrongdoing.
Meanwhile, the head of Salt Lake City's Police Union, Stephen Hartney, has hit out city officials for their handling of the case, according to the Deseret News.
Hartney said the release of police body cam footage prior to the conclusion of the investigation left him "extremely concerned" and isolated the officers.
"The premature release of body cam footage, and information related to the disciplinary investigation, and repeated statements by city officials to the media has unfairly and improperly made pariahs of the involved officers," Hartney wrote in a letter, addressed to City Mayor Jackie Biskupski.