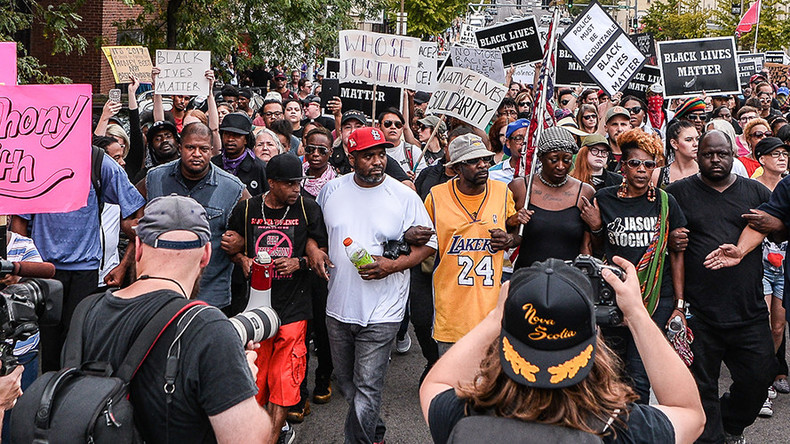 The St. Louis Galleria mall in an upscale suburban area of the city went into lockdown and nearby traffic was blocked as hundreds of protesters chanted slogans including, "Shut it down," before police eventually cleared away demonstrators.

The protesters came together late Wednesday afternoon around 5:30pm Central time, nearly one week after a verdict cleared a former police officer of murder charges. Demonstrators were met with a heavy police presence, as patrol cars and officers formed a road block between the protesters and Interstate 64 nearby.
READ MORE: 'Point of action is to disturb': Silent protesters block St. Louis City Hall
Protesters yelled "No justice, no profits," aimed at thwarting sales at the mall, the St. Louis Post-Dispatch reported.
Several shoppers and an employee inside the Galleria took to social media to say the mall had been shut down and they were being told they could not leave due to protests outside the facility.
Officers with shields and masks arrived on the scene just after 6pm. At around 6:30pm, the St. Louis County Police Department texted media outlets that they were asking protesters to leave the roadways they were occupying. A little before 7pm, demonstrators dispersed from the area after the police declared the protests an unlawful assembly, according to the Washington Post.
Protests started on September 15 after former officer Jason Stockley was acquitted in a trial related to his part in the 2011 shooting death of 24-year-old Anthony Lamar Smith. Protests have been both peaceful and violent in the last week.
READ MORE: St. Louis braces for violence after ex-cop is acquitted of murdering black man
Mass arrests occurred Sunday, and police were accused of using a technique known as "kettling," or boxing in a large number of people into one area to arrest them. Police had asked the protesters to disperse or face arrest before the incident happened.