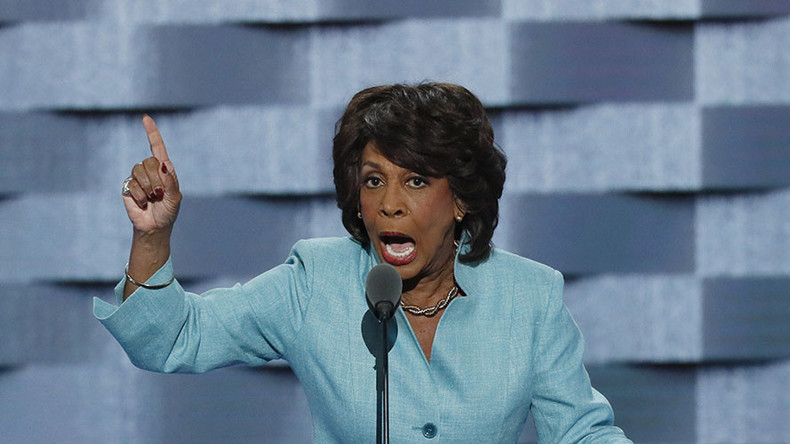 Democratic Congresswoman Maxine Waters has called for Trump's impeachment for the second time in a week, and urged her fellow representatives and the black community to join her in pushing for Trump's ouster.
"There is no law that can dictate impeachment," Waters told members of the Congressional Black Caucus on Thursday. "What the Constitution says [about impeachment] is, 'high crimes and misdemeanors' and we define that."
"Bill Clinton got impeached because he lied," she added.
Waters was addressing the Congressional Black Caucus at a town hall on civil rights when she called on her colleagues to back her up on her drive to see Trump ousted from the White House.
"Don't come here and tell me, 'Maxine, you keep on doing what you do'," she said. "But when you gonna give me some support? How many of you in your organizations have said, 'Impeach 45?"
Waters also told the Black Caucus she could "guarantee" Trump colluded with the Russians.
"Here you have a president who I can tell you and guarantee you is in collusion with the Russians to undermine our democracy. Here you have a president that has obstructed justice," she said.
"When is the black community going to say, 'Impeach him'? It's time to go after him. I don't hear you!" she continued.
"Don't another person come up to me and say, 'You go, girl. No, you go!"
Waters has long been a vocal critic of Trump, and was criticized Saturday for using her eulogy for comedian and civil rights activist Dick Gregory to attack the president, calling him a "dishonourable human being who cheats everyone."
"We're going to sanitize the White House," she said, adding, Trump that "has the Alt-Right and the KKK [Klu Klux Klan] and everybody else inside his cabinet," she said.
"When I get through with Donald Trump, he's going to wish he'd been impeached."
Waters is one of several lawmakers to call for Trump's impeachment since his inauguration. While the calls have largely come from Democrats, there is division within the party, with some calling for patience until the investigation into Trump's alleged ties to Russia is complete.
READ MORE: Democrats squabble behind closed doors over Trump impeachment plan
In July, Rep. Brad Sherman of California introduced a resolution to impeach Trump, accusing the president of obstructing and impeding a federal investigation into former national security advisor Michael Flynn. Flynn was fired after being caught lying about discussing sanctions with Russian ambassador Sergey Kislyak.
Impeachment is a long process that starts with the House of Representatives where a majority can vote to impeach on the grounds of "treason, bribery, or other high crimes and misdemeanors."
The grounds for impeachment are vague and could be applied to a wide range of crimes and actions, depending on the agenda of those in Congress. Bill Clinton and Andrew Johnson are the only two presidents to have been impeached by the House, and neither were found guilty by the Senate.
Following a Congressional vote, the Senate must then hold a trial to determine guilt. Guilt is established by a two-thirds majority vote in the Senate. If the person accused of impeachment is the president, the chief justice of the Supreme Court acts as judge. In other cases, it would be the vice president.