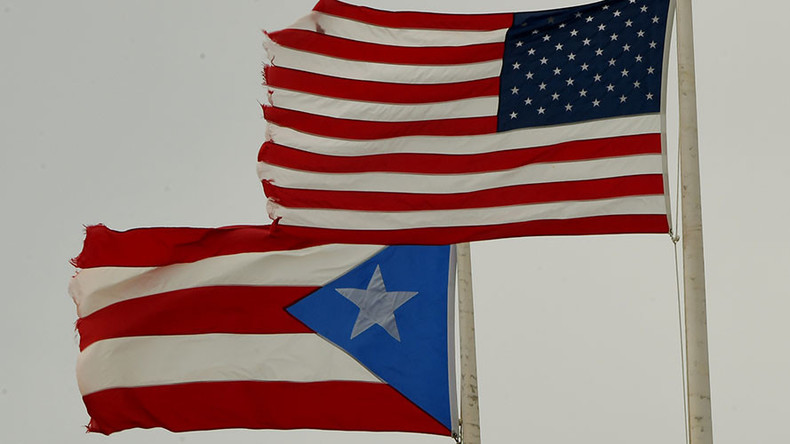 As President Donald Trump's critics accused him of not doing enough to help Puerto Rico after it was hit by Hurricane Maria, a shocking new poll reveals that 47 percent of Americans don't know the island's 3.5 million residents are US citizens.

Eight out of 10 of those who were aware that Puerto Ricans were citizens said they would send aid to the storm-battered territory, according to a Morning Consult poll reported by the New York Times on Tuesday. In comparison, only 40 percent of those who did not know the islanders were their fellow Americans approved of sending them aid.
Before the poll results were published, former presidential hopeful Hillary Clinton accused President Trump of not paying enough attention to Puerto Rico's plight, preferring to feud with athletes over the national anthem.
"At the same time that he was doing all of that, we had American citizens in Puerto Rico who are in a desperate condition," Clinton said in a radio interview, according to the Washington Post. "He has not said one word about them, about other American citizens in the US Virgin Islands. I'm not sure he knows that Puerto Ricans are American citizens."
Other critics of the president have also taken aim at Trump's response to the crisis. The White House has been quick to counter down the criticism, while Puerto Rican Governor Ricardo Rossello praised the administration's response.
"The federal response has been anything but slow," White House Press Secretary Sarah Huckabee Sanders said on Monday. "Once we have a greater insight into the full assessment of damage, then we'll be able to determine what additional funds are needed, but we're still in kind of that fact-finding process."
At a press conference on Monday, Rossello said he was "very grateful" for President Trump's response following the hurricane. He was accompanied by FEMA administrator Brock Long and Trump's homeland security and counterterrorism adviser Tom Bossert, who arrived on the island on Monday.
READ MORE: Travelers stranded at Puerto Rico airport after Hurricane Maria
The governor specifically lauded the administration's initial deployment of over 10,000 federal staff to help rebuild and repair the stricken US territory. The personnel dispatched to the island includes 700 members of the Federal Emergency Management Agency (FEMA).
As of Monday afternoon, authorities in Puerto Rico have confirmed 16 deaths as the result of the Category 4 hurricane, while electricity has still not been restored to over 3 million residents, KWTX reported.
Between the power outage and storm-inflicted damage, hundreds of travelers remained stranded at the Luis Munoz Marin International Airport (SJU) in San Juan. Reports of a lack of air conditioning and minimal help from airline staff resulted in what one woman from Arkansas called "inhumane" conditions.
SJU's radar system was completely knocked out by the hurricane. Presently the airport can only handle a total of 10 flights per day.