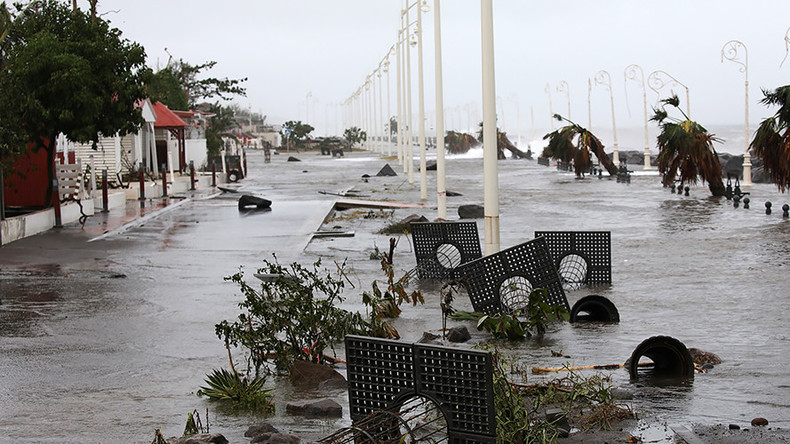 Hurricane Maria's winds hit a sustained 175 mph as the the storm rolled through the northeastern Caribbean in route toward the Virgin Islands and Puerto Rico. Residents of the territories have been warned to prepare for the worst.

On Tuesday, the eye of Maria was seen moving towards St. Croix in the Virgin Islands. The Category 5 storm was 30 miles southeast of the island as of 23:00 EST Tuesday night, according to the National Hurricane Center. The center also says Maria is 120 miles southeast of San Juan, Puerto Rico, where it is expected to make a direct hit Wednesday.
READ MORE: Maria makes landfall in Dominica as a 'potentially catastrophic' Category 5 hurricane
"The eye [of the storm] has rapidly intensified over the last 48 hours or so and it's barreling toward the US Virgin Islands," meteorologist Julie Phillips of WFLA said.
Extreme winds and rain pounded the Caribbean island of Dominica late on Monday, as Maria made landfall with 160 mph winds. The storm ripped off the roofs of houses as it pummeled the island as an extremely dangerous Category 5 storm, according to The National Hurricane Center.
The Prime Minister of Dominica, Roosevelt Skerrit, described the storm's winds as merciless, and said the roof of his house was blown off and his house was flooding in a post on Facebook. Skerrit later said he had been rescued from the situation.
Maria is the first Category 5 hurricane to hit Dominica in the island's history, the Washington Post reported.
On Monday night, Maria quickly turned from a Category 1 storm to a Category 5, making it one of the fastest-growing storms in history, according to Mashable.
President Donald Trump declared a state of emergency for the Virgin Islands on Monday. This unlocked federal resources for the US territory and authorized the Federal Emergency Management Agency and the Department of Homeland Security to manage all recovery efforts in the area from then on out, according to the New York Post.