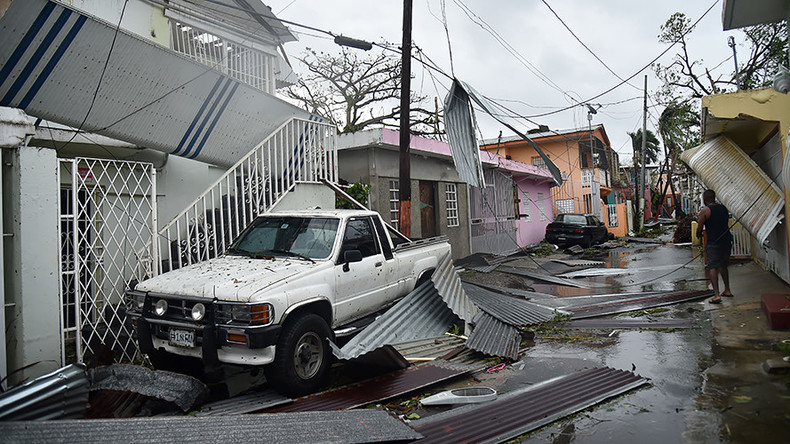 The eye of Hurricane Maria has left more than 3.4 million residents without power in Puerto Rico after battering the island with life-threatening winds for 12 to 24 hours. However, the governor warns that the worst is still to come.
Hurricane Maria made landfall in southeast Puerto Rico just after 6:00am Wednesday morning as a Category 4 storm with sustained winds of 155 mph, according to the National Hurricane Center (NHC).
READ MORE: 'Total devastation': Hurricane Maria brings high winds and flooding to Puerto Rico (IMAGES, VIDEO)
The NHC announced that after the eye of the storm left the island, Maria weakened to a Category 3 hurricane, with sustained winds near 110 miles per hour.
READ MORE: 'Life threatening' Category 5 hurricane Maria barrels into Puerto Rico
Abner Gomez, managing director of Puerto Rico's State Agency for Emergency Management and Disaster Management (AEMEAD), told BBC News that the storm damaged "everything in its path."
Gomez added that none of the customers of Puerto Rico's Electric Power Authority (PREPA) had power.
"We are 100 percent without power," a spokesman for the Puerto Rico governor's office told CNN.
Last month, Ricardo Ramos, director of PREPA, told El Nuevo Dia newspaper that Hurricane Irma, which hit the island two weeks ago, could damage the electrical system so severely that there would be areas without power for three to four months.
According to the most recent US Census, there are more than 3.4 million people living in Puerto Rico.
Puerto Rico Governor Ricardo Rossello said that Hurricane Maria was "the most devastating storm in a century, or quite frankly in modern history," and warned residents that "the brunt of the storm is still to come."
"People might have a sense that they have gone through the worst part of it, but as we know with hurricanes, it's the flooding, it's the heavy rains that tend to be the number one cause of death," Rossello told CNN.
In the aftermath of the storm, Puerto Rico is experiencing "catastrophic flash flooding" with parts of the island expected to receive 20 to 25 inches of rain, according to an advisory from the NHC issued at 9:00pm GMT.
The National Weather Service (NWS) has extended flash flood warnings and hurricane warnings across the entire island Wednesday.
A hurricane warning is still in effect for Puerto Rico, Culebra, Vieques, the Dominican Republic, Turks and Caicos Islands, and the Bahamas, according to the latest advisory from the NHC.
On Wednesday, Rossello declared a curfew from 6:00pm local time that will extend to early Saturday morning "with the purpose of safeguarding lives and property."
"Maintaining the order is essential for the government authorities to implement the action plan that corresponds to the impact of the devastating hurricane," Rossello said.