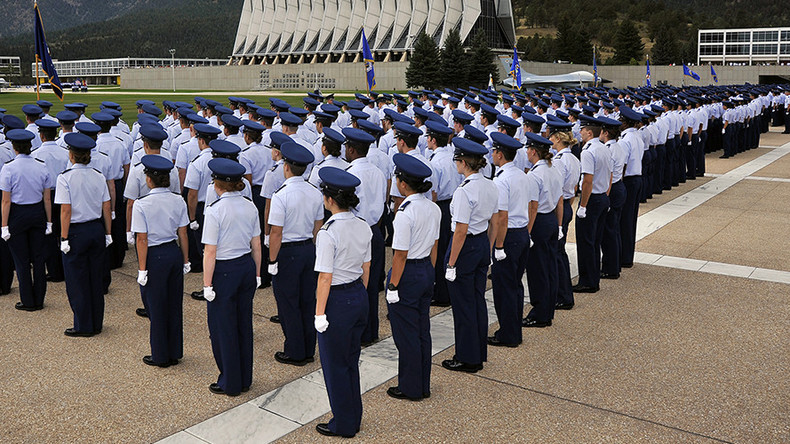 An Air Force Academy cadet, praised for his work with rape prevention programs, could be court martialled and jailed for up to 20 years if convicted of sexually assaulting another man.

Prosecutors told the court Wednesday that senior cadet Steven Fox sexually assaulted another man he took as a date to an academy dance in 2015. It's alleged that Fox penetrated the Colorado Springs man with his finger before rubbing against him for sexual gratification, The Gazette reports.
Fox's defense say that the cadet's actions were consensual and that he and the alleged victim, a student at the University of Colorado, were dating at the time.
This is the first case of its kind for the academy since the military lifted its ban on gay people serving in the armed forces in 2011. Until then any homosexual acts involving a serving member could have resulted in a court martial.
Fox was known for his work trying to get male victims of sexual assault to report their experiences of abuse. The Department of Defense has said that thousands of male service members are assaulted every year but only a small percentage come forward.
"[About] 10,800 men are sexually assaulted every year in the military," Russell Strand, a retired Criminal Investigative Service special agent, said in 2015. "[Roughly] 8,000 women are assaulted."
However only a fraction of those assaulted report their ordeal, roughly 13 percent, according to Strand, pointing out that the fear of being ostracized, misunderstood or not being believed contribute to this low percentage.
Psychologist and researcher Jim Hopper echoed these sentiments. "There's fear of those memories, there's fear of being violated, there's fear that someone might know what happened to them."
He added that many victims feel that if they report assaults they feel as though their military career would be finished as a result.