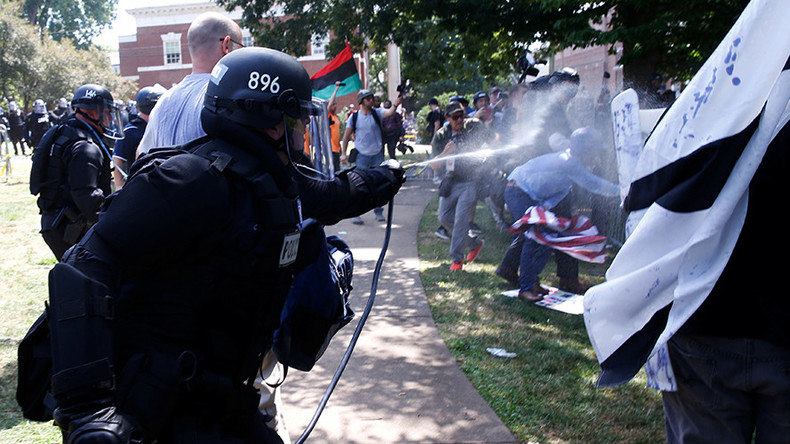 A South Dakota lawmaker has apologized for sharing a meme apparently showing a vehicle ramming into protesters.
READ MORE: Police officer probed for mocking Charlottesville attack victim on Facebook
Republican state representative Lynne DiSanto shared a meme on her Facebook Page that read: "All lives splatter. Nobody cares about your protest. Keep your ass out of the road," accompanied by a cartoonish drawing of an SUV mowing people down.
DiSanto added her own caption to the post, which read: "I think this is a movement we can all support. #alllivessplatter".
The post was shared less than one month after a 32-year-old woman was killed, and 19 others injured, by a white nationalist who plowed through a group of counter-protesters in Charlottesville, Virginia.
The 20-year-old driver has been charged with second-degree murder, three counts of malicious wounding and one of hit and run.
READ MORE: Charlottesville mayor says car-ramming incident 'terrorist attack with car used as weapon'
DiSanto, the GOP's majority whip in the state House, shared the post on September 7. It remained there until Tuesday, according to USA Today.
Officials from the South Dakota Democratic Party called on DiSanto to apologize for the post Tuesday evening, to which she responded with the following statement, issued to the Rapid City Journal:
"I am sorry if people took offense to it and perceived my message in any way insinuating support or condoning people being hit by cars," DiSanto said. "I perceived it differently. I perceived it as encouraging people to stay out of the street."
It appears the apology wasn't enough to save DiSanto from her day job. She lost her position at a local real estate firm, Keller Williams Realty Black Hills, on Tuesday as a result of the post.