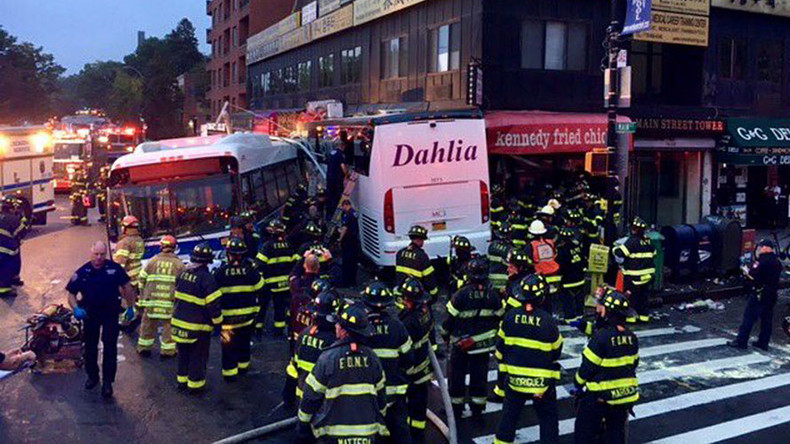 A New York City transit bus collided with a tour bus on a notorious corner in the borough of Queens, spinning around at high speed and leaving multiple people dead and injured.
Mayor Bill De Blasio called it a "shocking tragedy."
"It is hard to compare to anything I have ever seen. The sheer destruction from the impact of this collision," de Blasio told reporters during a press conference Monday morning. "We have so far three people who have passed away, our prayers are with their families. We have 16 who have been injured, several of whom are fighting for their lives right now. This is a very painful moment."
Two of the dead and the 16 injured people were taken to local area hospitals. Officials said the third person who died was "still pinned" at the scene.
One of the dead has been identified as the tour bus driver and another as a pedestrian who happened to be on the sidewalk.
The corner of the Northern Boulevard and Main Street in Flushing, Queens was on the Metropolitan Transit Authority (MTA) list of 'dangerous corners.'
City officials said the MTA bus was traveling on Main Street and making a right turn onto Northern Boulevard when it was struck by the tour bus.
The crash also damaged a building on the corner, Mayor de Blasio said.
State authorities are very concerned about the speed involved in the crash, officials said.

MTA Chair Joe Lhota said he was going to let the investigators do their work, but added "these buses spun around and that requires an enormous amount of speed."
"I agree with the Mayor… we need to maintain a level of low speed in New York," added Lhota.
There were 15 passengers on the MTA bus. The driver, who is in non-critical condition, had been on the job for 10 years and a regular on this particular route.