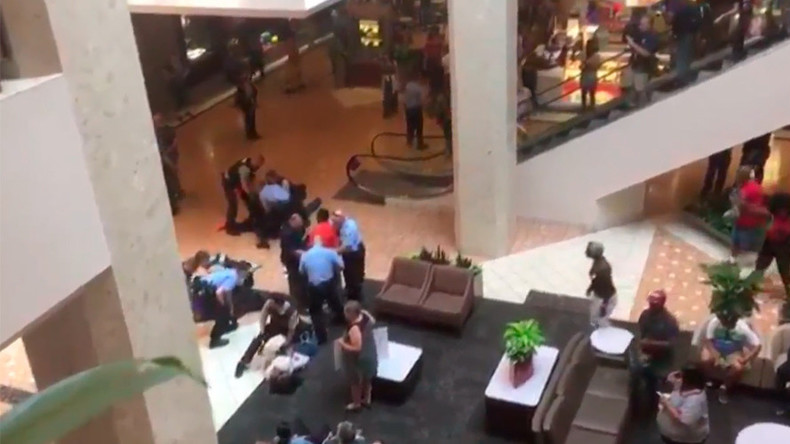 St. Louis police arrested 22 protesters at the Galleria shopping mall, where dozens gathered to march in defiance of a "not guilty" verdict for a white former police officer in the fatal shooting of a black man.
On Saturday, more than 200 people thronged to the upscale suburban area of Richmond Heights, assembling at Galleria mall to mark the 8th day of protest against the judge clearing a former policeman, Jason Stockley, in the 2011 death of 24-year-old Anthony Lamar Smith.
People passed through the mall halls, chanting "No justice, no profits!" while police closed the mall entrances, not allowing anyone in. According to St. Louis Public Radio, some protesters forced their way past the officers to climb an escalator to join those already upstairs. Some grew disorderly and began overturning trash cans.
READ MORE: 'No justice, no profits': 6th day of St. Louis protests targets local economy
At the time, the county police department wrote in its Twitter feed that orders to disperse were given following "destructive actions," with arrests appearing to be "imminent." Police reported that some in the crowd refused to leave the property.
After three orders to disperse, police began arresting the protesters, according to the Richmond Heights police department, as cited by St. Louis Post-Dispatch. Twenty-two people were arrested, while nearly 150 obeyed and "peacefully left."
"They were getting whoever they could get, randomly. It was barbaric. It's wrong," one of the protesters, Tricia Harris, told St. Louis Magazine. "No one was being disruptive in any way other than chanting," one of the shoppers, named Denise, said. "It was just scary. I've never witnessed anything like that."
Two demonstrators received minor injuries and an officer was taken to the hospital for a back injury, the county police tweeted.
Protests have been going for more than a week now after judge ruled Jason Stockley not guilty of the first-degree murder of Anthony Lamar Smith.